2024 FSA plan information:
A traditional flexible spending account can only be elected if you have the PPO coverage. These pre-tax dollars can be used for eligible medical, dental and vision expenses. For this plan, your funds may only be used for expenses that occur or have a date of service within the current plan year.
A Limited Purpose Flexible Spending Account has been implemented for those enrolling in the Q-HDHP.  This can be used for eligible dental and vision expenses only.  These contributions are also pre-tax and the funds in this account must be used by December 31st each year.
For questions regarding your account contact Catapult at 800-528-2329 or benefits@letscatapult.org
A flexible spending account (FSA) allows you to set up a pre-tax savings account to help pay for your family's health care or dependent care costs. Your contributions are taken from your earnings before taxes are taken out .
Terminated employees have 60 days following their last day to turn in claims that were incurred on or prior to their date of termination.
Your funds may only be used for expenses that occur or have a date of service within the current plan year. Because you have an extension in your Plan, if you have funds remaining in your FSA on December 31st of each you, you have until March 15th of each year to incur claims to use up your remaining funds.
A flexible spending account allows you to set up a tax-free savings account to help you pay for your family's health care or dependent day care costs.
CREATING YOUR ONLINE ACCOUNT
**All information needs to be created using the Employee's name, social security number, and card number**
Go to MyCatapultBenefits.org
Click on Participant Login/Registration
Create a password and username. Make sure you write this information down for future use.
Enter your First Name, Last Name, and Email Address
Enter your Employee ID. This is the Social Security Number of the Employee, do not use dashes (it will not work using the spouses' ssn)
Enter your Registration You will use your FSA card number or your Employer's name. Once you type in your employer's name click on it when it auto populates below the box.
Accept the Terms of Use and click Register.
Don't forget to register your phone number under "Alerts" preferences. You will be able to check your balance by texting "Bal" to 97487.
You have created your FSA account login!
MOBILE FEATURES!
Gain full access to your flexible spending account (FSA), health savings account (HSA), and or your health reimbursement account (HRA) with CATAPULT's free application. Search for the key words.
"MyCatapultBenefits"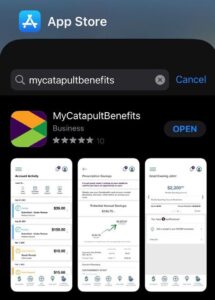 CATAPULT MOBILE PAY
What is Catapult Mobile Pay?
Are you interested in a more convenient way to pay for benefit account expenses? Do you prefer to use contactless payments for all types of purchases? With Catapult Mobile Pay you can quickly and easily pay for eligible benefit account expenses, both in-store and online, using your digital wallet app on your mobile device.
To begin using Catapult Mobile Pay, simply:
Step 1: Open your digital wallet (Apple Pay, Google Pay, or Samsung Pay)
Step 2: Enter your benefits debit card details.
Step 3: Accept the Terms & Conditions
Step 4: Complete the authentication process, as prompted.
Step 5: Begin using your digital wallet to pay for eligible expenses.
How do I contact Catapult?
Online access to your account information is available 24 hours a day, 7 days a week at by visiting www.mycatapultbenefits.org
You can also call Catapult to request information about your account Monday through Friday, 8:00 a.m. to 4:30 p.m. EST at 800-528-2329.
Forms and other FSA information can be accessed on www.mycatapultbenefits.org.
Annual Maximum Contributions to each plan are:
| Medical: | $3,050 |
| --- | --- |
| Dependent Day Care: | $5,000 |
To participate in one or both accounts, you must make your selection during open enrollment. Debit cards are issued to participants.