Unsung Definition
By definition, an Unsung Hero is someone who loves their job at Medic, happy to be here, excited to do their work, very patient driven/community supporter, always on time, has a very positive attitude, lifts up other employees, and is awarded to those who are humble or silent leaders and may go unnoticed.  Below is the nomination for Unsung Hero 2020 winner Angela Johnson.  Congratulations to both Angela and Shauna for winning this year's Unsung awards!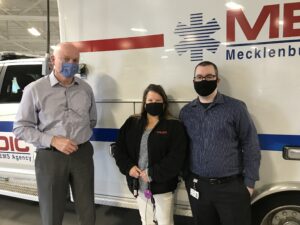 Angela Johnson
Telecommunicator since 2016
Nominator: Russell Hancock
"Angie Johnson is one of the most steadfast and humble people to work with in CMED. She never comes in and complains about what she is asked to do and is always willing to help out those around her. She does so with a positive attitude and patience, two things that that we always need more of in CMED. Angie remains humble and appreciative of the things in her work life instead of taking them for granted.
"Never derogatory about her peers she accepts everyone as they are. She never looks down on the work that is asked of her or the people who call us. Instead she performs her duties professionally and advocates for anyone who needs a voice. I know there are many different personality types in CMED, and we all have our own particular skills, however I also know that we could all learn and improve ourselves by paying attention to the example that she sets. Her actions tell us that it is not just skill sets in CMED that make you a great employee, but also having the right attitude can matter just as much."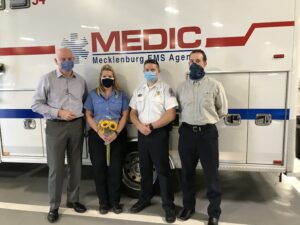 Shauna Downs has been a true Unsung Hero this year. She was assigned to light duty to being the year and quickly adapted her work to assist in preparations for the Agency response to COVID-19.
She took it upon herself to connect with her peers and gather ideas and needs from the frontline workers these changes would support. This work directly steered processes for Field Operations.
Due to her excellent work, Shauna was then assigned to assist Operations Manager Jamie Stanford with a higher level of Agency COVID response.
She has, and continues to, comb through mountains of data on a daily basis to ensure our employees are safe and well informed if they had an exposure during a call. This work goes unnoticed and unheard of, but is of vital importance to the health and wellbeing of our frontline employees.
FROM SUPERVISOR BRIAN SMITH:
"Shauna is an exceptional employee in field operations and this year has shown that she is an exceptional asset to the Agency in any position she is assigned to. Her work ethic is second to none and her attitude is one of unwavering support for her peers and the community we serve. Shauna is definitely an Unsung Hero!">>>Go back to eDispatch